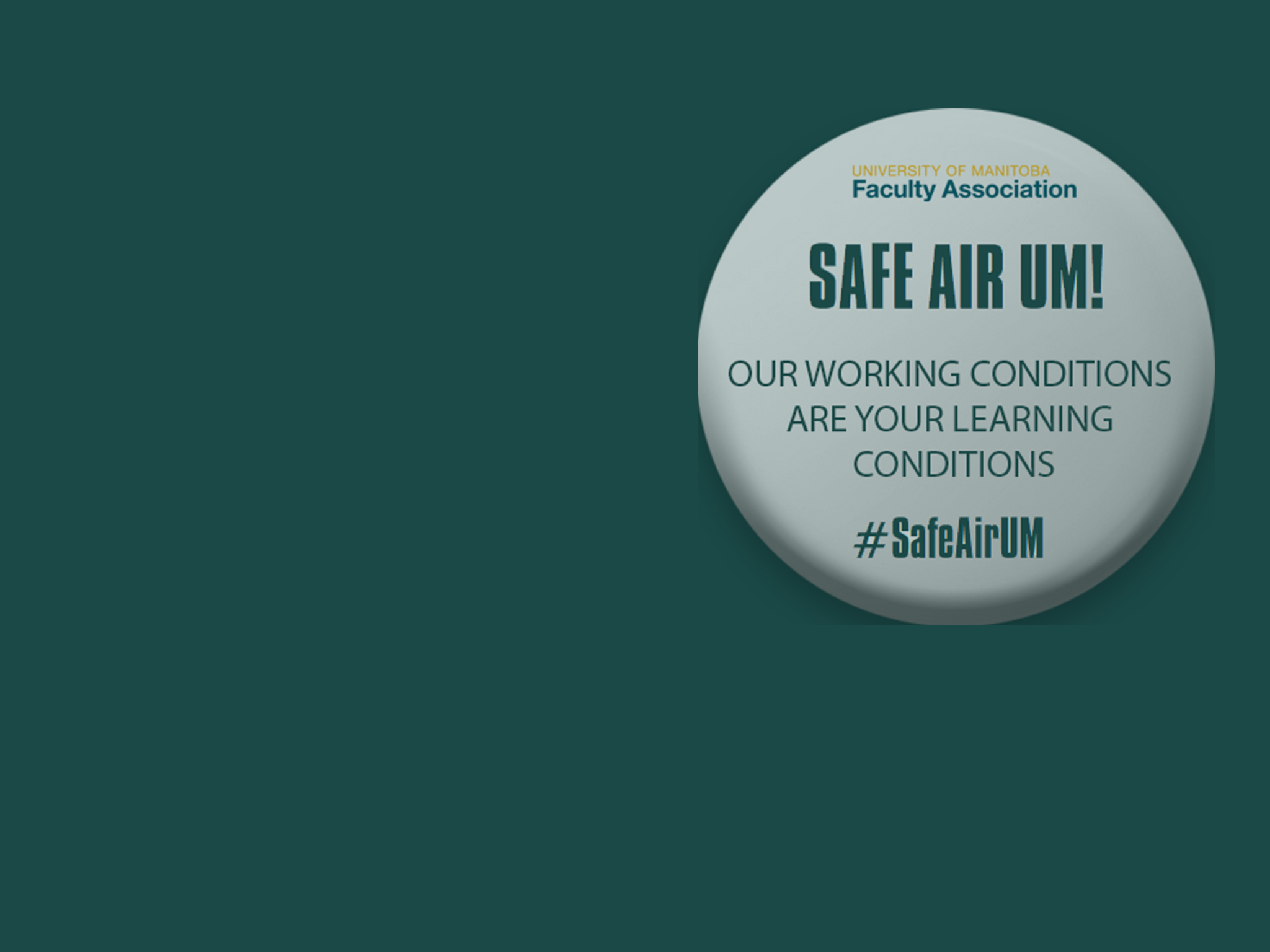 Safe Air UM Campaign
UMFA Members Organize for Safe Air on Campus
For months, UMFA members and staff have been advocating for the university's administration to ensure a safe return to campus. These efforts have had moderate success. It is clear that UMFA members and supporters need to take action to get President Benarroch to ensure the University of Manitoba is a leader in safe air – a health reform for our times much as clean water and streets were for an earlier age [1]. That's why we're launching the Safe Air campaign.
The pandemic is not over. We have been living with the airborne pathogen SARS-CoV-2 for more than two years. A growing number of people are getting long COVID and suffering long-term debilitating complications, such as brain fog. Meanwhile, vaccine immunity wanes, and new variants that break through existing vaccine protection may develop. We know COVID-19 is airborne [2], but the full scope of its effects remains uncertain.
As UM returns to working and learning fully in-person, we must look to experts for advice on how to prevent the transmission of SARS-CoV-2 and prevent outbreaks in our community. We know:
Properly fitting KN95 masks prevent outbreaks.
Vaccines prevent outbreaks and booster doses help to counter waning immunity.
Ventilation indoors prevents outbreaks [3].
Yet, these protections will not necessarily be in place as we return to campus. UM needs to be a leader and act on the basis of the best research to reduce the risk of people working and studying on our campuses becoming infected by this airborne virus. Ensuring equitable safe working and learning conditions requires proper ventilation. Soon we'll have lecture halls filled with over 300 people, with few upgrades to ventilation and filtration having been done. It is unacceptable for air quality in UM buildings to be below the standards for reducing infection that current science recommends. This is why we are calling on President Benarroch and his administration to:
Assess ventilation and filtration in all buildings on all campuses before September 2022 to identify where upgrades are needed so that air quality meets the standards recommended by current science for preventing the transmission of airborne diseases. The results of the assessment should be published publicly.
Initiate ventilation and filtration upgrades as required without delay. As interim measures, provide CO2 monitors and portable HEPA-filters (or equivalent) and implement other COVID-related maintenance as soon as possible but at minimum before September 2022.
Continue to require the wearing of KN-95-level masks and provide them to everyone on all UM campuses.
Provide Rapid Antigen Tests (2 per person per week) to everyone required to be on UM campuses.
Restore the vaccination requirement, with all students and workers required to be maximally vaccinated (with exemptions for bona fide medical reasons).
With the prospect of many more people working and studying in-person this Summer term, we need action now on measures that can be implemented immediately, such as continued mask and vaccination mandates and the availability of rapid testing.
Extensive work on ventilation issues and upgrades needs to start right away. A portion of the UM's financial surplus should be invested in ensuring proper ventilation in all buildings.
Improved ventilation will not only aid in preventing the spread of SARS-CoV-2 but will also help to prevent the spread of future airborne diseases.
We are calling on President Benarroch to follow science and prioritize the safety of us all. Our community is made up of students, staff, faculty, and administrators with a diversity of interests, backgrounds, and talents. We must aim to prevent as many COVID-19 infections on our campuses as possible.
You can make these demands a reality.
Campaign images
Click the link or the image, then right click on image and save.
Zoom background (hash tag at bottom)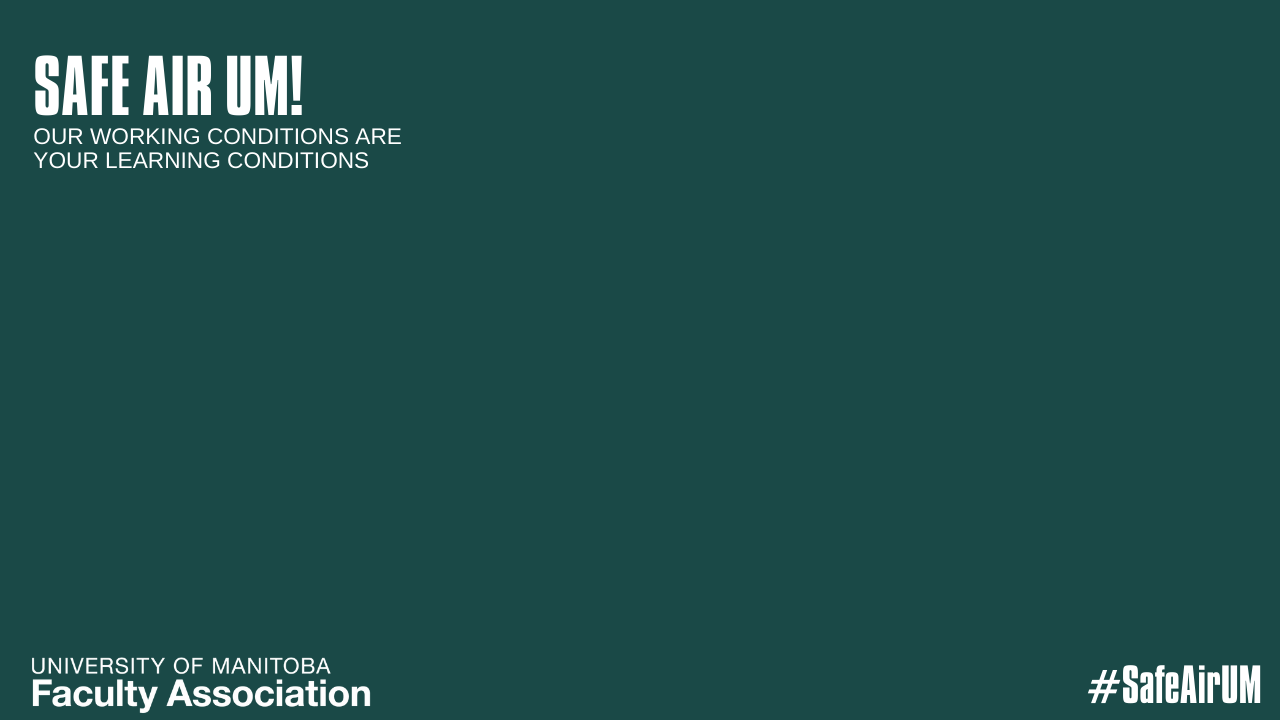 Zoom background (hash tag at top)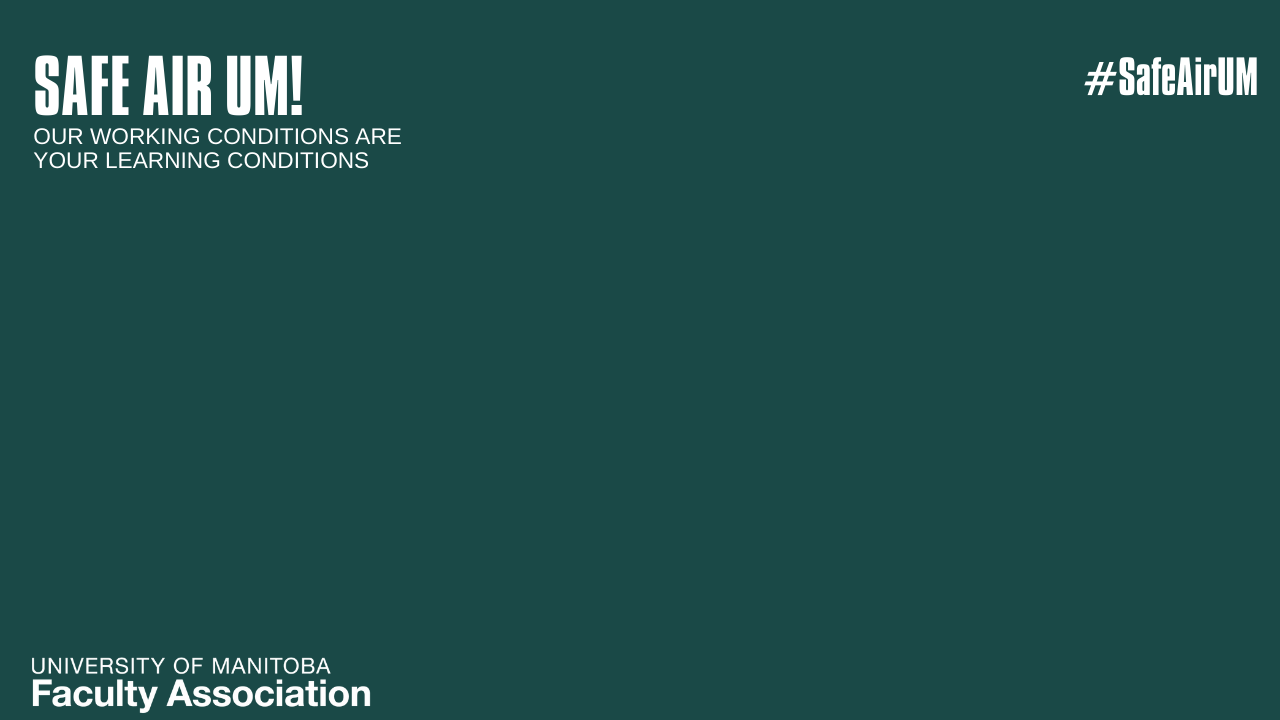 Safe Air UM Twitter profile picture