Safe Air UM Campaign
UMFA Members Organize for Safe Air on Campus
UMFA members and staff have been advocating to the university's administration to ensure a safe campus for learning and working during the continuing COVID-19 pandemic. These efforts have had moderate success. It is clear that UMFA members and supporters need to take action to get President Benarroch to ensure the University of Manitoba is a leader in ensuring safe air – a health reform for our times much as clean water and streets were for an earlier age [1]. That's why we're continuing the Safe Air campaign.
The pandemic is not over. We have been living with the airborne pathogen SARS-CoV-2 [2] for more than three years. Vaccine immunity wanes, and the vaccines we have do not fully prevent infection. People of all ages continue to get long COVID, a vascular disease that can cause long-term debilitating complications, such as extreme fatigue, brain fog, heart palpitations, and joint pain.
As the UM fall 2023 semester gets underway, preventing the transmission of SARS-CoV-2 and reducing community outbreaks continues to be vitally important. Effective strategies to reduce the transmission of COVID-19 include:
Wearing properly fitted KN95 masks
Ensuring appropriate indoor ventilation
Being maximally vaccinated
The UM administration is obligated to take every reasonable measure to protect faculty and staff from workplace hazards, yet, these protections will not necessarily be in place as we return to campus. UM needs to be a leader and act on the basis of the best research to reduce the risk of faculty, staff, and students working and studying on our campuses becoming infected by this airborne virus. Ensuring equitable and safe working and learning conditions requires proper ventilation and continued masking. Few upgrades to ventilation and filtration have been done in UM teaching, learning, and research spaces. It is unacceptable for air quality in UM buildings to be below the standards for reducing infection that current science recommends. President Benarroch and his administration to:
Assess ventilation and filtration in all buildings on all campuses before September 2023 to identify where upgrades are needed.

Air quality must meet the American Society of Heating, Refrigerating and Air-Conditioning Engineers (ASHRAE) recently approved Standard 241, "Control of Infectious Aerosols". The administration should create publicly accessible webpages where the locations, dates, and results of air-quality testing are reported and can be easily accessed

.
Initiate ventilation and filtration upgrades as required without delay. As interim measures, provide CO2 monitors and portable HEPA-filters (or equivalent) and implement other COVID-related maintenance as soon as possible but at minimum before September 2023.

E

nable UMFA members to mandate mask-use in the laboratories, classrooms, and office spaces over which they have direct control while performing their research, service, and teaching

.

Initiate a process for students who are immunocompromised, or can otherwise demonstrate a need for accommodation with respect to protection from exposure to COVID-19, to apply through Student Accessibility Services to have a mask mandate imposed on particular learning spaces

.

Renew

efforts to advertise the benefits of mask use and make KN95 or equivalent masks widely available on UM campuses.

Redouble efforts to encourage faculty, staff, and students to stay home when they experience COVID-19 or flu-like symptoms.

Continue to have rapid antigen tests available free-of-charge for the UM community even as the federal government phases out providing them.
Extensive work on ventilation issues and upgrades needs to start right away and the UM was provided dedicated funding to start to address these needs.
Improved ventilation will not only aid in preventing the spread of SARS-CoV-2 but will also help to prevent the spread of future airborne diseases.
We are calling on President Benarroch to follow science, prioritize the safety of the university community, and prevent as may COVID-19 infections on our campuses as possible.
You can make these demands a reality.
Check out UMFA's letter to President Benarroch as part of our continued fight for safe air. Read it here
References
[1] The Moral Imperative of Advocacy: COVID is Airborne
[2] Professor S Murthy, 2 years into the pandemic, burning questions remain about COVID-19 — and how we fight it | CBC News.
[3] Podcast: Jose-Luis Jimenez and Kimberly Prather on how public health history has influenced what we know about COVID-19 transmission and lessons for science communication (acs.org)
[4] ASHRAE Standard 241 "Control of Infectious Aerosols''
#SafeAirUM in the news
UMFA raises concerns over COVID-19 practices, published in The Manitoban July 25th, 2023
Masks and clean air can help protect our community, published in The Manitoban April 4th, 2023
Clean air is key to defeating COVID-19, published in The Winnipeg Free Press December 7th, 2022
Additional Resources
Provincial Respiratory Surveillance Report
COVID-19 wastewater surveillance dashboard
Campaign images
Click the link or the image, then right click on image and save.
Zoom background (hash tag at bottom)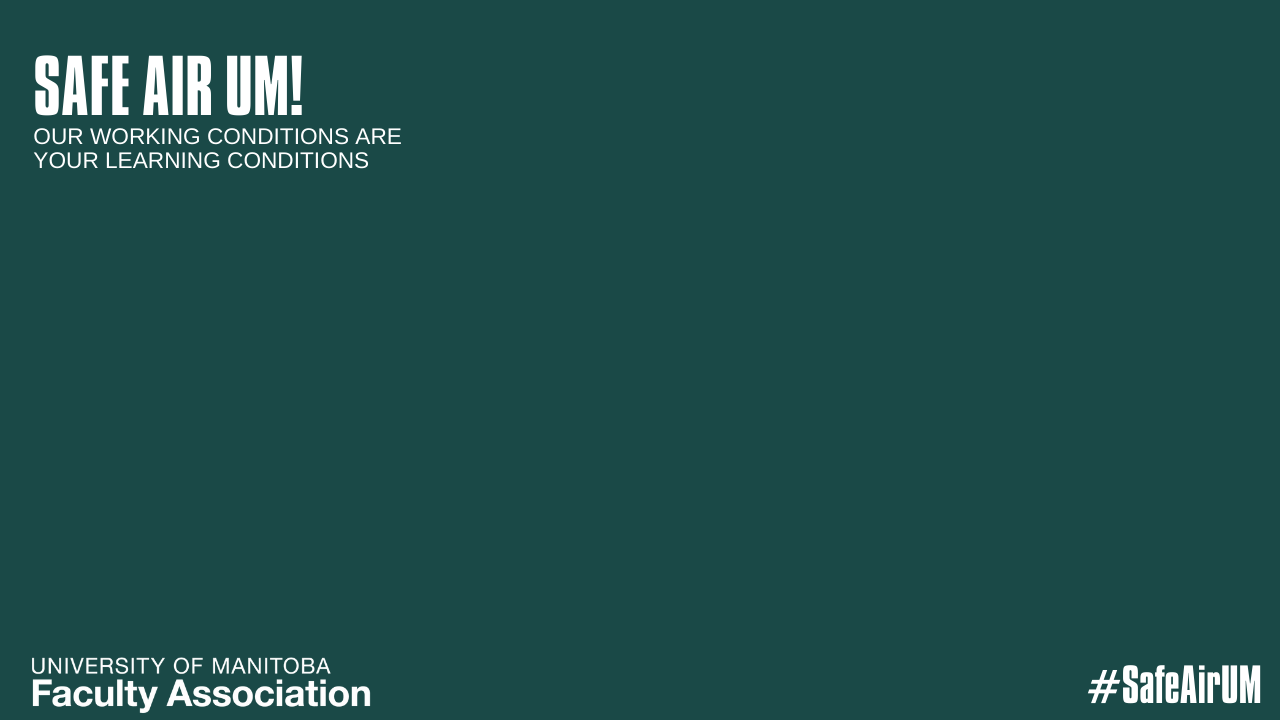 Zoom background (hash tag at top)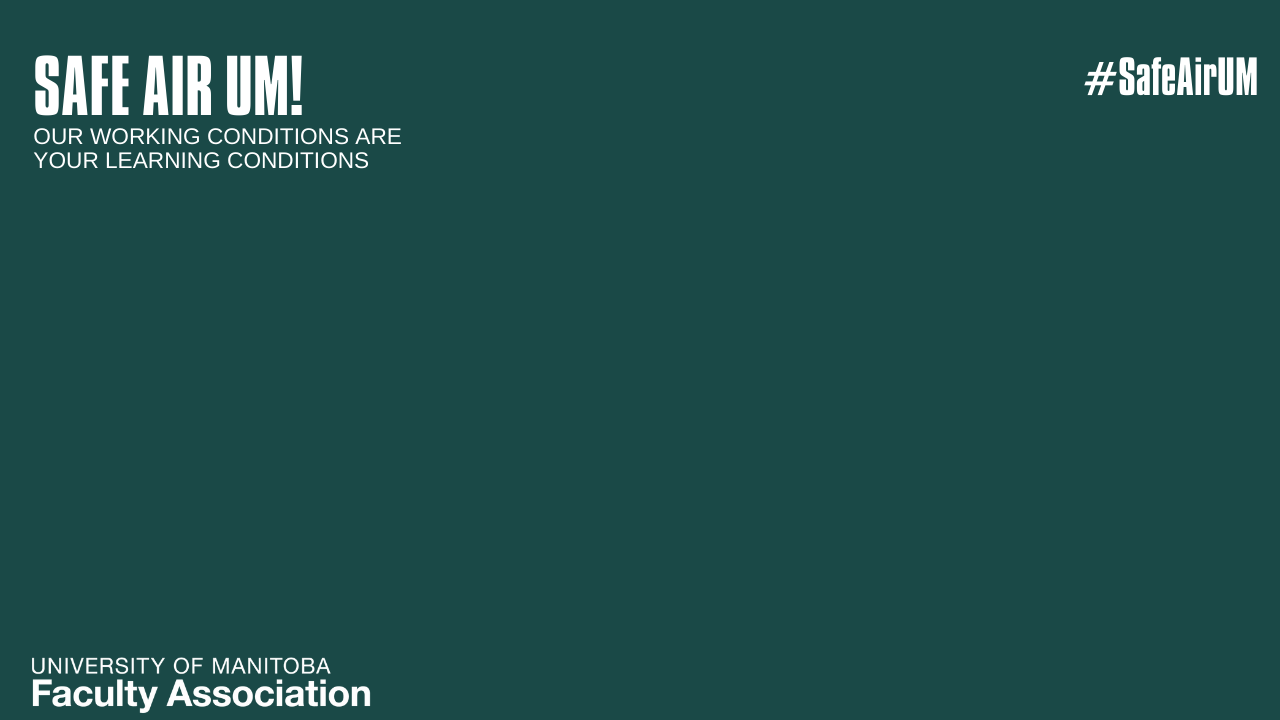 Safe Air UM Twitter profile picture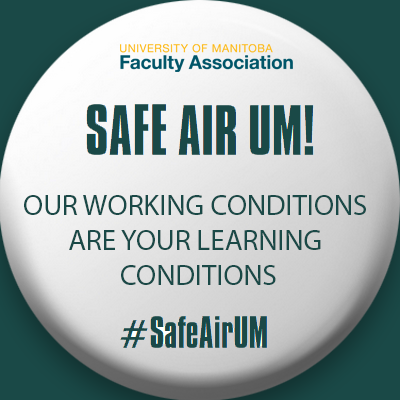 ---
COVID-19: Where We're At and How to Make Campus Safer in 2023
If you missed the recent webinar "COVID-19: Where We're At and How to Make Campus Safer in 2023", no worries! The session is now available on UMFA's YouTube channel.
Speakers:
Raywat Deonandan is an epidemiologist and Associate Professor, Faculty of Health Sciences, University of Ottawa
Shauna Mallory-Hill is an expert in building design and performance and Associate Professor, Faculty of Architecture, University of Manitoba.