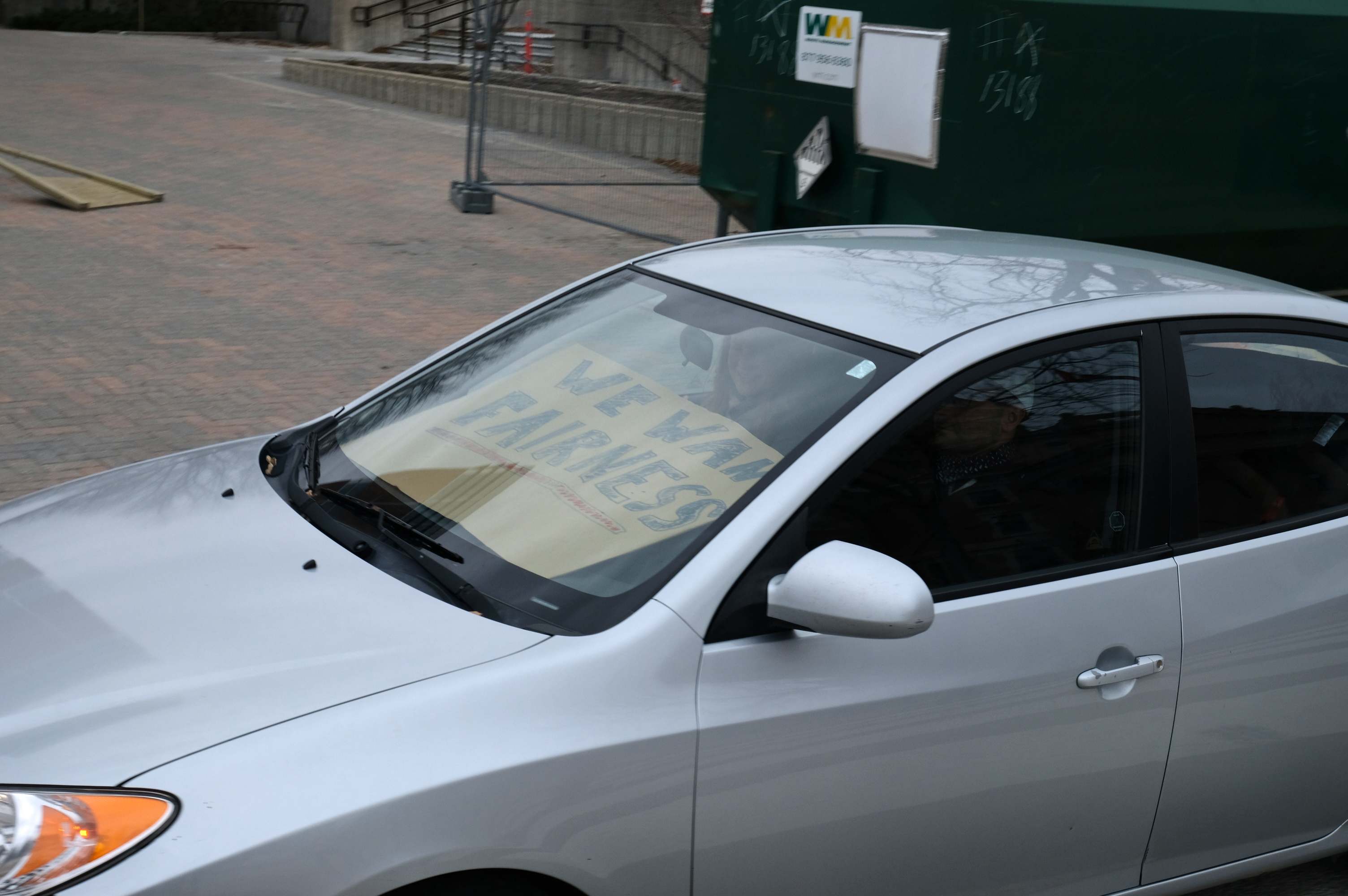 Community Supports UMFA Call for Arbitration
Shaw: Arbitration fair way forward in University labour talks
Winnipeg, October 20, 2020 – over 150 people in cars, on bikes, and on foot came out to honk, ding, and holler in support of the University of Manitoba Faculty Association.
Cars encircled the University of Manitoba administration building and spilled out across campus as UMFA members asked that the University administration agree to binding arbitration in their ongoing negotiations.
"Enrolments are up. Workloads are up. The PSSA has been struck down. The University is in a good financial position. It's time for President Benarroch and the Board of Governors to do what is best for the University community, and agree to arbitration" said UMFA President Michael Shaw.
UMFA members were joined in the honk-a-thon by representatives from across the labour movement, including the Manitoba Federation of Labour (MFL), the Association of Employees Supporting Education Services (AESES), Unifor, and others.
Bargaining between UMFA and the Administration is at an impasse, with the Administration refusing to make a counter-offer. In August the parties began negotiations over salaries for the 12 months spanning April 2020 to March 2021. In 2017, both agreed to account for the status of the Public Services Sustainability Act (PSSA) in negotiations.
The PSSA, which strictly limited salary increases in the public sector, was declared unconstitutional this past June. In 2016 the introduction of the PSSA resulted in the University taking off the table its 4 year offer, which included 1%, 2%, 2%, and 2% per year salary increases.
Even though the PSSA has been declared unconstitutional, the University has now offered a 0% increase to compensation, in line with a mandate that came from the Province in August.
"The effects of the PSSA have damaged the entire University community," said Shaw. "Arbitration by a neutral third party is the most secure way forward. We are asking for a fair deal."
-30-
Media requests:
University of Manitoba Faculty Association:
This email address is being protected from spambots. You need JavaScript enabled to view it.
(204) 474-8272