Collective bargaining is one of the most important way we advance our shared goals. Below are some brief explanations of how we do it.
A Brief on Process
Typically, the process begins as soon as a Collective Agreement (CA) is signed: UMFA Staff and Grievance Officers keep track of various issues that arise as the new Agreement is put to use. These issues, along with those raised at constituency meetings, are discussed by the Collective Agreement Committee (CAC). The CAC combines all this information with data gathered through a bargaining survey to create bargaining proposals. Those proposals are then debated by the Board of Representatives, which recommends the proposals to Members, who further debate them at a General Meeting.
With proposals discussed and approved, the Bargaining Team then presents them to the Employer. The Employer also presents their proposals. As negotiations unfold, the Bargaining Team (BT) reports back to the CAC, which debates possible changes to proposals and gives the BT direction on what to communicate to the Employer.
Depending on what happens at the bargaining table, the Executive organizes further constituency meetings, General Meetings, a strike vote, and marches, rallies, and other actions that support the Bargaining Team in their efforts. Once a tentative agreement is reached, the Executive also organizes a ratification vote. If Members think the deal is acceptable, a 'yes' vote turns the tentative deal into a new Collective Agreement.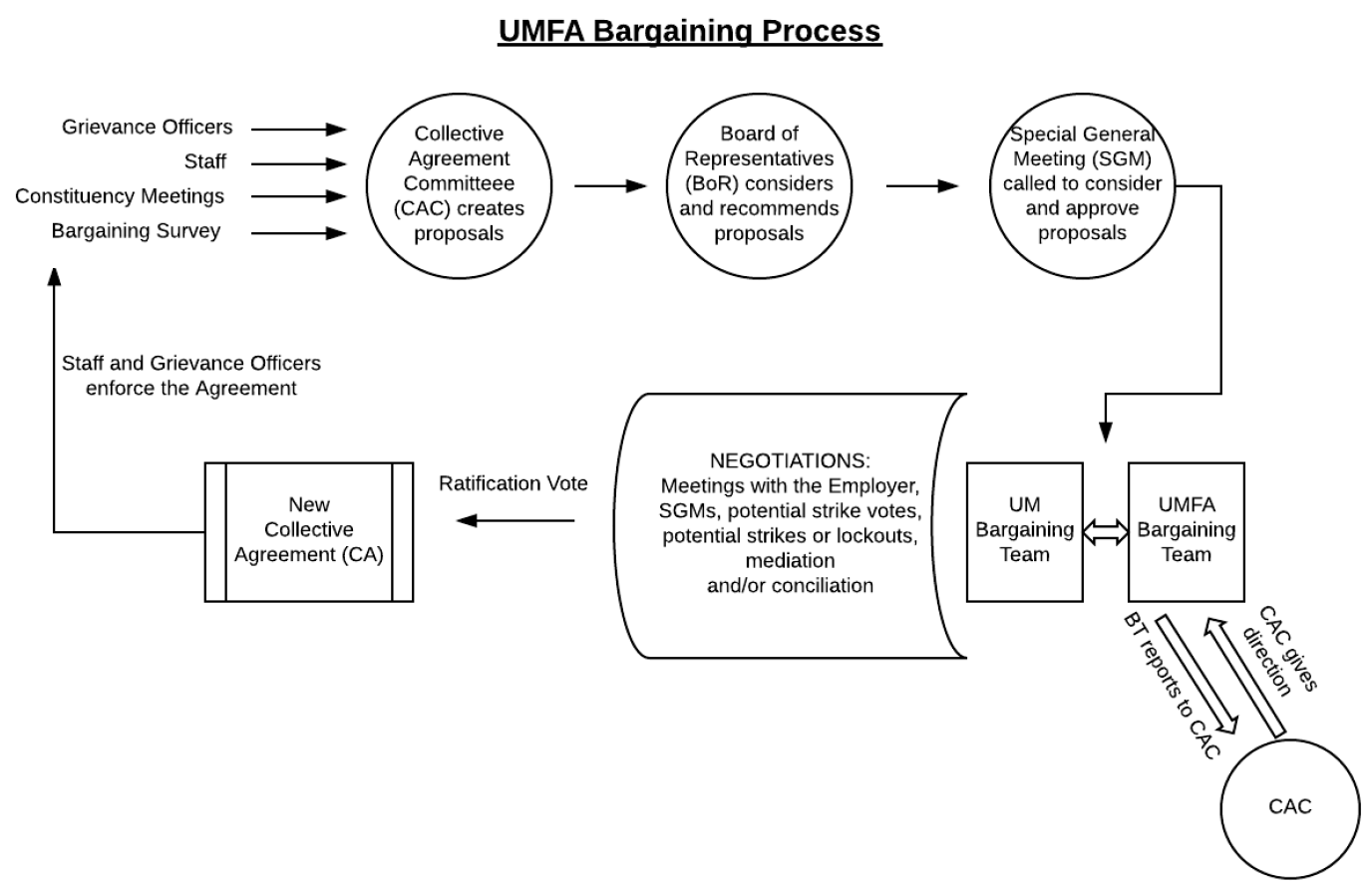 Who Runs the Process?
Bargaining is nothing if not a collective effort. The Bargaining Team (BT) is one of the most visible bodies that partakes in the bargaining process, and is made up of a Chief Negotiator, a number of Members (five this time), each appointed by UMFA's Board of Representatives. UMFA's legal staff are also on the BT. The Bargaining Team presents proposals to the Employer and reports to the Collective Agreement Committee on the day-to-day goings-on of bargaining.
While the Collective Agreement Committee (CAC) isn't as visible as the Executive Council or the Bargaining Team, it plays an important role in the process: Composed of the Executive, the BT, and other UMFA Members appointed by the Board of Representatives, it solicits information from Members, formulates proposals, and develops bargaining strategy. Staff's expertise and advice are also sought. The Bargaining Team reports back to the CAC regularly during bargaining, and the CAC modifies proposals and strategy as negotiations develop.
During, and even before, bargaining, The Executive Council (Exec) is responsible for developing timelines and ensuring that they're met, preparing and releasing communications to the Membership and the media (with the help of staff and the Communications Committee), liaising with other unions and the labour movement, and anything else that needs to be done. It's composed of a President and Vice President elected by the UMFA Membership, the immediate Past President, and five to seven Members appointed by the Board of Reps on the recommendation of the President.
UMFA's Board of Representatives (the Board, or BoR) is made up of elected representatives from all over the UM. They are responsible for organizing constituency meetings and communicating with their colleagues about bargaining and sharing that information with the Board and the Executive. Board reps are an important link between the BT, Exec, the CAC, and the Membership as a whole, and have a hand in mobilization, among other things.
However, the highest decision making body at UMFA is a General Meeting, constituted when all Members of UMFA are called to discuss specific topics. In the context of collective bargaining, Special General Meetings (SGMs) are called to discuss proposals, overall strategy, and strike votes. It's also at a Special General Meeting that a tentative deal is discussed, and a ratification vote taken.
Together, these various bodies make the bargaining process what it is: a dialogue between Members about what the workplace should look like and how to make it a reality.
We Make U of M Happen!
---
2020 Salary Re-opener Negotiations
Click here for news articles about UMFA, or negotiations/strikes in the post-secondary sector
Click here for Letters of Support sent to UMFA
November 16, 2020
A reply to Dr. Benarroch

Dear President Benarroch,
I write on behalf of my colleagues in UMFA and myself in response to your message this morning to the University of Manitoba community. We are deeply disappointed by its tone, its content, and your all too apparent abdication of your responsibilities to university faculty, instructors, and librarians and the University community at large.
There is a stark disconnect between your actions and the ends you claim to pursue, particularly with regard to ensuring greater wage equity for UMFA members in the U15. Your reference to compliance with the provincial wage mandate clearly demonstrates that your priorities are not to ensure that research and educational opportunities can be pursued at the highest level at the University now or in the future. Instead, it betrays a capitulation to the provincial government's campaign to undermine the public sector at a time when many of us are already stretched to our breaking point.
In the most general terms, your responsibility to the University is to promote its interests and success as a centre of excellence for research and higher education. In choosing to align yourself with the provincial government and to prioritize its wage mandate, you have chosen to further demoralize the academics that are indispensable to any such success.
There is much to be lost by further disenfranchising a highly-skilled group of professionals that already feels overwhelmingly disrespected and undervalued. The long-term consequences of neglecting rather than nurturing the source of the University's productive capacity in teaching and research will only undermine its output with respect to both.
Apart from challenges that our stagnant compensation levels cause in relation to recruitment and retention, there is the frank reality that one simply cannot expect extraordinary efforts from those to whom you only make empty overtures. My colleagues and I have given a great deal to this institution, over and above what might be expected. Whether we are able to continue to do so depends very much on whether you choose to prioritize the work we do rather than the misguided priorities of the Pallister government, which you yourself have critiqued on behalf of the Manitoba Federation of Labour, writing the following words:
"Bill 28 disproportionately places the burden of budget cuts on public servants. While undoubtedly salaries are a significant component of government expenditures, government services and programs benefit all Manitobans. The provincial debt is the responsibility of all Manitobans not just public servants. Public servants ensure that services and programs are provided to Manitobans. Bill 28 places the burden on one sub-sector of the province to disproportionately contribute to deficit reduction."
The President of the University of Manitoba needs to be an independent leader in our province and follow through on the implications of these words: begin advocating openly and tirelessly for a properly funded post-secondary education system that is accessible to all Manitobans.
Yours,
Michael Shaw
---
November 11, 2020
Bargaining Update: an open statement to the university community

Michael Shaw, UMFA President
Almost four years ago, the administration of the University of Manitoba snatched its modest salary increases off the bargaining table without warning. We didn't know why, and the administration didn't give much of a reason. "The law of contract", they said at the time.
But that wasn't true, nor was it lawful – after a three-week strike and a hearing at the labour board, we learned the extent to which government interference had precipitated the move. The Pallister government micromanaged the negotiations and demanded those modest increases be taken off the table.
The result: the University paid $2.4 million in fines to UMFA members.
Almost immediately following the government's interventions at the University, Pallister introduced austerity legislation, the Public Services Sustainability Act (PSSA), which limited the salaries of all public sector workers. He also forbade the University from accepting binding arbitration to settle our negotiations in 2017. In response, we negotiated a salary-reopener for this year in order to deal with the status of that legislation. The PSSA was deemed unconstitutional this June.
Despite that ruling, the same thing that happened in 2016 is happening now, though slightly more openly. Even though his austerity legislation has been deemed unconstitutional, Pallister is using the pandemic to attack public sector workers. This time, the University of Manitoba got a letter – Profs, Instructors, and Librarians are to take a 0% increase in salary, and the budget put toward full-time academics is to be cut 2.5%.
The reasons for this are just as unclear as before. While the government and the University blame the uncertainty introduced by the pandemic, University enrollments are up, not down: class numbers rose 10.7% this summer, 3.2% this fall. We're teaching more than ever. Of course, it's not surprising that many Manitobans decided to re-train in a time of crisis.
In fact, a review of the University's own financial data shows that it's not only in good health, but has the resources to treat its workers better than it does. The administration appears to have saved the money they offered us in 2016, but they still refuse to right the wrongs of 2016 and 2017, even though academic salaries at the U of M are near the bottom of those paid at similar Canadian institutions. This means we have trouble attracting new talent, and talent that's here often leaves for more lucrative appointments elsewhere.
An open letter signed by President Benarroch and six Vice-Presidents and sent on October 30 states that "The University remains committed ultimately to bringing UMFA salaries more in line with salaries at peer universities." The Administration knows that UMFA members' low salaries are unfair and undermine the quality and reputation of the University.
As front line workers at the U of M we've asked that the modest salary increases we were unlawfully denied be put back on the table.
Even after our very successful strike vote, the administration continues to refuse to settle our dispute through binding arbitration – this too sounds a lot like 2016 and 2017, when the government told the university binding arbitration was not an option.
The administration has suggested mediation, however, and hinted that they now have some room to move at the table. We agreed to mediation, but set a deadline of November 14 at 11:59pm to ensure the process is productive. We're hopeful that room to move addresses our concerns.
It's clear that this isn't just about the administration. It's also very much about the government. The Pallister government's position has every appearance of using UMFA as an example for the rest of the public sector – if we get properly paid, everyone else will have to be properly paid, too. So, they're pressuring the administration to keep us near the bottom of the U15.
It's at post-secondary institutions that doctors are trained, and cutting-edge research is conducted. Our students will go on to be health care professionals, teachers, scientists, entrepreneurs, engineers, politicians, and artists. They'll provide essential services in both the public and private sectors, vital to all Manitobans, during the pandemic and beyond.
Particularly now, what Manitoba needs is investment, not threats of funding cuts, particularly at an institution that puts $1.5 into the Manitoba economy for every dollar it receives.
I urge you to contact Brian Pallister to let him know that his government's interference is not acceptable, during a pandemic or at any time. His contact information and a letter you can build on are included below.
We know there's a pandemic on. We are burning the candle at both ends, working even more hours than before to provide quality remote education while homeschooling our own children, being caregivers for vulnerable dependents, trying to transform our homes into offices, and battling the same isolation and anxiety as everyone else. All we're asking for is a fair deal, and ask for your help in getting it.
Michael Shaw
UMFA President
Email the Premier and let him know that UMFA Members deserve fairness!
This email address is being protected from spambots. You need JavaScript enabled to view it.
Dear Premier Pallister,
I write to you to express my concern about your government's interventions at the University of Manitoba and the negotiations with the institution's full-time academics.
In 2016 the University of Manitoba illegitimately took its 4-year cost-of-living wage offer off the bargaining table. The Manitoba Labour Board declared this an unfair labour practice, and ordered the University to pay a fine to members of the bargaining unit whose rights had been violated – the full-time academics represented by the University of Manitoba Faculty Association (UMFA).
This June, your austerity legislation was declared "draconian" and unconstitutional. This legislation was the reason the University didn't restore the offer it made in 2016.
UMFA is asking that the offer that was illegitimately removed from the bargaining table in 2016 be put back on the table. I urge you to lift your mandate for a 0% salary increase and a 2.5% budget cut. Our hard working Professors, Instructors, Librarians, and Archivists at the University of Manitoba deserve fairness!
I look forward to your written response,
Yours,
[signature]
---
UMFA Received Strike Fund Loan from CAUT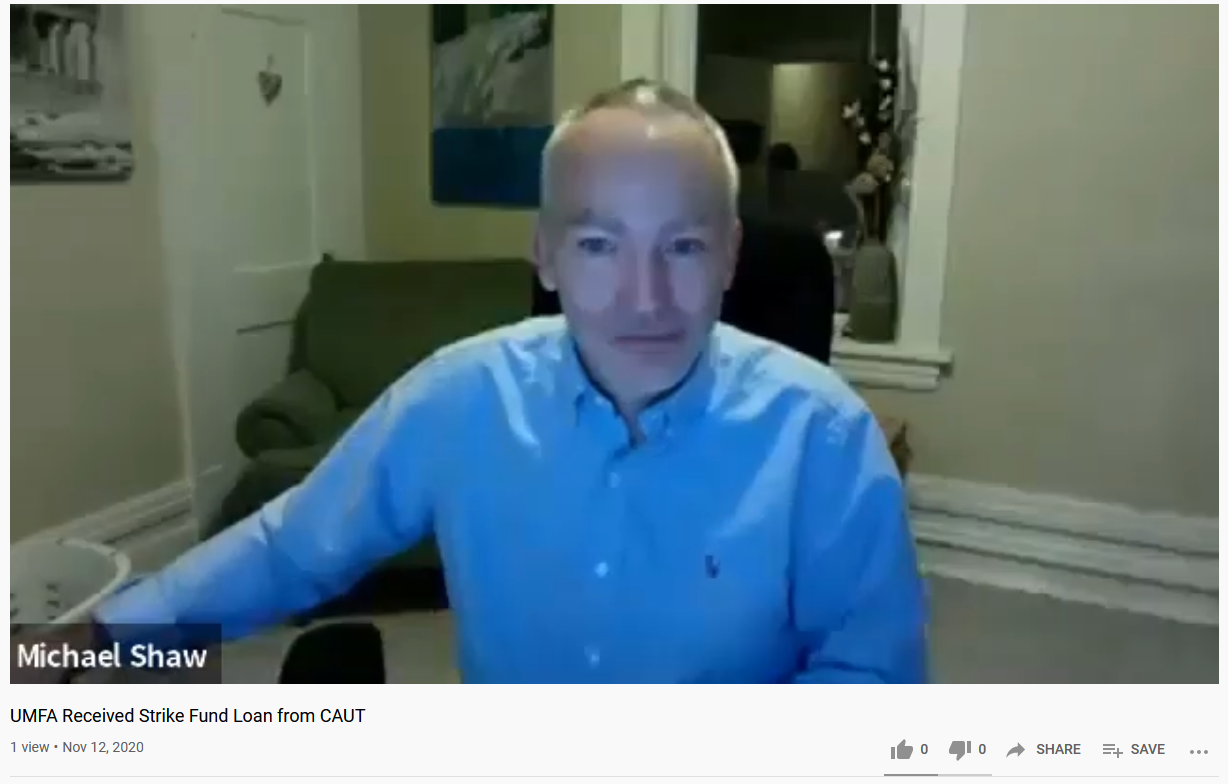 ---
October 31, 2020
UMFA Responds to UM's message to the university community
From Chief Negotiator Cam Morrill:
Hi everyone,
At 4:44 PM on Friday, October 30, the University Administration sent out a "Message from the President and Vice-Presidents on UMFA bargaining" to all employees and students at the UM. In it, they congratulated the students and staff of the UM on their heroic efforts to carry on teaching and research in spite of the pandemic, and themselves on their commitment to the University, "a fair bargaining process," and "reaching an agreement."
We've received many emails expressing a great deal of consternation about this email. It's easy to see why: The President's message is so jarringly different from our experience at the bargaining table in this round.
The facts they offer are correct, as far as they go. Negotiations began within the timeframe agreed upon in the Collective Agreement; and we have met with the Administration team eight times since August 20.
The President and VPs do not talk about the substance of those meetings, however. Essentially, we have been at an impasse from the outset of these negotiations.
Our proposals are founded on reparations for losses suffered by our Members due to the constitutionally invalid Public Sector Sustainability Act (PSSA); improvements to the salary grid to create greater equity and salary growth; a modest increase for the 2020-2021 year; and support for Members during the COVID-19 crisis.
The Administration's proposals are the status quo – no change in salary or support for UMFA Members regardless of the circumstances under which they are working.
The meetings between the two sides became shorter and more infrequent as it became increasing clear that there was little to talk about. The only change in opening positions occurred on October 9, when UMFA offered to take the threat of job action off the table in favour of binding arbitration. On October 16, the Administration firmly rejected arbitration. There have been no meetings since October 16. My last communication with the Administration's chief bargainer was on October 23. On that date, I indicated via email that we saw no reason to meet in the immediate future but were willing to set up a meeting if the Administration had anything for us. He thanked me for my message.
That was the end of our communications until this Message from the UM President and VPs. There is no mention of arbitration in the Message, but there is an implicit continuing rejection of the proposal in their assurance that their "focus remains on reaching an agreement, at the bargaining table" (emphasis added).
Of course, the current impasse works for the Administration in that it locks the UM into the status quo that is the entirety of the Administration's bargaining proposals in this round. This latest message only assures the UM community that the Administration is not committed to reaching a fair settlement in these negotiations. The President and VPs state clearly that they are "ready to return to the table at any time," but their chief bargainer is equally clear by his silence that the Administration has nothing to tell us.
Increasing the pressure on the Administration through threat of job action, while regrettable, is necessary if we want to jar the Administration loose from their posture in these negotiations.
An electronic voting key, unique to you, should be in your UManitoba email inbox. Please exercise your franchise and vote "yes" to authorize the Association to call a strike should the administration remain silent.
Yours,

Cam Morrill,
Chief Negotiator, UMFA
Not seen the President Benarroch's letter? Click here: https://news.umanitoba.ca/um-update-on-umfa-negotiations/
---
Why you should care about the UMFA strike
Reddit - November 12, 2020
I'm a graduate student in Winnipeg. I totally understand why many people feel that the potential strike is greedy, poorly timed, and an unnecessary stressor in what are already extraordinarily awful times. With this post, I'm hoping to explain why, whether you're a student at the University of Manitoba or not, you should care about and support UMFA's cause.
Arbitrators award raises to 1,700 staff at eight Alberta colleges after calls for cuts
Calgary Herald - November 12, 2020
Workers at eight Alberta post-secondary institutions have been awarded a pay raise despite employers calling for a two per cent pay cut, according to the union.
As potential faculty strike looms, province still wants U of Manitoba to cut employee costs
CBC - November 9, 2020
As faculty members head toward a possible strike, the provincial government continues to insist the University of Manitoba find savings in labour costs it was seeking when the COVID-19 pandemic began.
Unions gather for protest at Leg, supporting U of M Faculty Association
Winnipeg Sun - November 6, 2020
Myriad labour unions gathered in protest at the Manitoba Legislature on Thursday in support of the University of Manitoba Faculty Association, which is embroiled in an indirect conflict with the province over collective bargaining.
University of Manitoba faculty could go on strike Nov. 16
CBC- November 5, 2020
The clock is ticking on contract negotiations at the University of Manitoba, after the union representing faculty announced a bargaining deadline of 11:59 p.m. on Saturday, Nov. 14.
U of M Faculty Association sets deadline before strike
CTV News - November 5, 2020
The University of Manitoba Faculty Association (UMFA) has set a deadline for bargaining in its ongoing dispute with the university before it goes on strike.
UMFA votes for potential strike against U of M's refusal to negotiate wages
The Manitoban - November 3, 2020
The possibility of a strike has been growing amongst the University of Manitoba Faculty Association (UMFA), who this weekend voted in favour of a strike against U of M's refusal to negotiate wages.
An open letter from UMFA to U of M students
The Manitoban - November 3, 2020
Dear University of Manitoba students,
As you may know, the University of Manitoba Faculty Association (UMFA) and U of M administration have been engaged in bargaining since August. Talks reached a standstill in mid-October, and the administration refused UMFA's suggestion of binding arbitration. This past weekend, members of UMFA voted 80 per cent in favour of authorizing strike action if necessary.
UMFA votes to approve strike action
CTV News - November 3, 2020
The University of Manitoba Faculty Association (UMFA) has voted to authorize strike action amid an ongoing dispute with the U of M administration.
U of M Faculty Association Votes to Approve Strike
ChrisD.ca - November 2, 2020
The University of Manitoba Faculty Association (UMFA) has voted overwhelmingly to strike and has called for a protest later this week.
Strike threat adds to student stress
Winnipeg Free Press - November 2, 2020
The threat of a possible strike by University of Manitoba faculty has agriculture student Kevin Martin thinking he's experiencing deja vu — and he doesn't like it.
U of M faculty votes in favour of potential strike
Winnipeg Free Press - November 1, 2020
Faculty members at the University of Manitoba have voted to authorize a potential strike.
'We don't want to strike': UMFA to vote on potential strike if deal doesn't get done with university
CTV News - October 30, 2020
A potential strike is looming for the University of Manitoba Faculty Association (UMFA).
U of Manitoba students brace for more uncertainty as faculty association holds strike vote
CBC - October 30, 2020
University of Manitoba students who have learning remotely since the start of the pandemic are now facing the possibility of seeing their professors walk off the job.
University of Manitoba Faculty Association's bargaining unit to hold strike vote
Global News - October 29, 2020
The union representing faculty at the University of Manitoba is moving one step closer to a strike at the province's largest post-secondary institution.
uOttawa, striking support staff reach tentative deal
CTV News - October 30, 2020
A strike by support staff at the University of Ottawa has ended with a tentative deal, the school announced late Thursday.
U of M Faculty to vote on strike
Winnipeg Free Press (sidebar) - October 29, 2020
Faculty members at Manitoba's largest post-secondary institute are expected to cast ballots in an electronic strike vote set to begin Friday.
The University of Manitoba Faculty Association is in a deadlock with administration over a salary proposal currently in line with provincial legislation that attempted to force a two-year wage freeze on public-sector employees, but was thrown out by the Manitoba Court of Queen's Bench in June, a ruling the Pallister government is now appealing.
The union has asked the university to agree to binding arbitration in their ongoing negotiations, saying the administration is refusing to make a counter-offer. The school has proposed a zero per cent salary increase, the union said.
In August, the parties began negotiations over salaries for the 12 month span of April 2020 to March 2021. Earlier this month, the union held a honk-a-thon to garner community support.
Memories of 2016 strike loom
The Manitoban - October 27, 2020
On Nov. 1, 2016, the University of Manitoba Faculty Association (UMFA) declared a strike when fair mediations were unsuccessful with the University of Manitoba administration.
Honk-a-thon held after refusal to negotiate
The Manitoban - October 27, 2020
The University of Manitoba Faculty Association (UMFA) held a honk-a-thon rally Oct. 20 to protest the U of M's refusal to participate in binding arbitration, hindering progress on a new collective agreement.
Why I Walk the Line at U of O
Our Times - October 23, 2020
I was cold today. And wet. And quite frankly, more than a little pissed off. This was my second day on the picket line, third day of the strike. And I'll tell you, it's not a situation that is pleasant. I wish I could just work and get paid and take care of my family.
Striking during the pandemic 'extremely challenging' say U of O support staff
CBC - October 23, 2020
About 1,300 support workers at the University of Ottawa who walked off the job Monday morning say they're worried the strike comes at a time when no one is paying attention to their story.